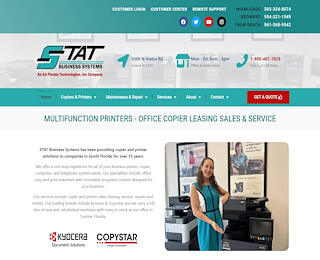 Copy Machine Leasing for Small Businesses
Very few companies are willing to spend thousands of dollars on office equipment. This is one of the primary reasons why many companies consult Stats Business Systems for copier leasing. We offer copier lease at affordable and predictable monthly rates.
Best Office Copiers to Lease for Small Businesses
One of the things you will probably want to know when looking for office machines is how much does it cost to lease a copy machine? You might also be wondering, is it better to lease or buy a copy machine? Small businesses and home offices can significantly benefit from the use of multifunction copy machines. Instead of having a separate printer, scanner, or fax machine, consider getting a multifunction copy machine to handle all copy jobs, including scanning printing, and faxing.
Brother Laser Multifunction Copier
Small businesses can start with this affordable multifunction copy machine. It has impressive print and copy speeds of up to 38 pages per minute. In addition, this multifunction copy machine is network ready and compatible with the Internet and 2.0 USB connectivity.
Canon Image Class Multifunction Copier
This copy machine is suitable for small offices and businesses that need to produce copies daily. This affordable machine can print, scan, fax, and copy up to 35 pages per minute. In addition, the device comes with advanced features, including a 50-sheet duplex automatic document feeder.
HP LaserJet Pro Copy Machine
This is one of the most efficient copy machines for small businesses. It is designed to produce quality color copies. The HP LaserJet pro copy machine is suitable for small companies and offices that print their flyers, graphic design content, and marketing materials. This printer can handle scanning, printing, and faxing. In addition, it supports internet connectivity, which makes it easy for employees who telecommute to print their copies on the go.
Xerox WorkCentre
This machine can churn out up to 24 pages per minute in color and black and white. Its efficiency remains uncompromised even when used by multiple employees throughout the day. In addition, the machine comes with advanced features such as secure authentication, color correction, and automatic duplexing.
Dell Multifunction Laser Printer
The dell multifunction laser printer is an efficient machine that can handle up to 80,000-page printing per month. It can be used to scan, copy, print, and digitally manage documents. It is suitable for businesses that handle high volume printing scanning or faxing. The Dell multifunction printer provides excellent value for investment. In addition, this machine is user-friendly and supports easy integration with compatible devices.
Kyocera Ecosys
This is an affordable and efficient laser printer with print speeds of up to 55 pages per minute. In addition, the printer has a paper capacity of 500 and works well with paper sizes smaller than A4. Weighing 16 kilograms, the Kyocera Ecosys copy machine has low running costs, smart displays, and fast printing speeds.
The A4 printer has a minimal design making it highly portable. In addition, it takes up little space in the office. This copy machine can turn out high-quality prints and is suitable for high volume printing.
Stats Business Systems stocks a wide range of copy machines suitable for small businesses and offices. Our printers produce excellent quality copies and are available at some of the best rates on the market. Please visit our store to see our printers at work.